Housing market shifts and trends – barge-like normally – speedboat nimbleness lately. Where will it veer with raging return of covid-19?
Believe It or Not
In the chart below, the red line, home sales in 2020
will be back over the gray line, home sales in 2019,
with the July sales numbers … and the June sales will be close to 2019.
That's not a prediction … that is the certain result from the number of transactions currently in escrow that will close in the next 30 to 60 days.

The following chart presents the number of listings going under-contract,
into escrow, daily since Jan. 1.
As of May 25, more homes were being sold each day this year.
Keep in mind, metro-Phoenix homes sales in 2019 was #2 all-time high, only slightly fewer sales that #1, 2018.
From early March to mid-April, the barge-like housing market changed directions like an out-of-control speedboat.
Most Astounding … there are very few homes to buy
The sales volumes are despite a severe shortage of homes available for purchase. In fact, as illustrated by the following chart, a day-by-day plot since Jan. 1 of the number of "Active" listings and the number of listings "Under Contract" in Maricopa County.
In Maricopa County from about April 25 to currently,
there are more listings/homes in escrow (Under Contract)
than there are "Active" listings available for purchase.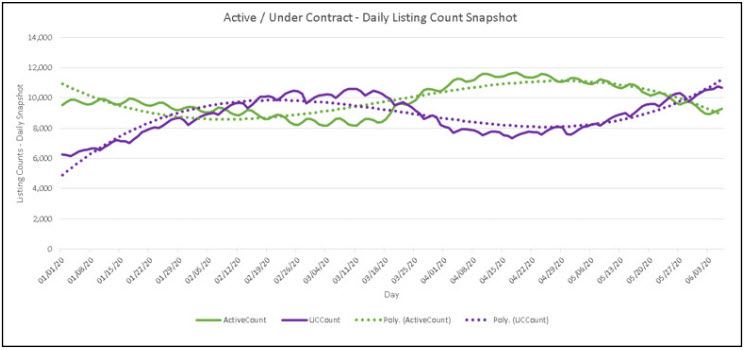 And the bazzar gap has continued to widened in the days since the last day/point in the above chart.
As shown by the following chart, the number of owners listing homes for sale dropped sharply in April, and remained at that level for May. Unlike the sales/closings number, there is no way to know where the "Active" listings number is going in the future.


These charts are NOT reflective of a bubble market that's about to burst and come crashing down. It's very basic "supply and demand". Even in the pandemic, the net migration for Maricopa County Arizona is strongly positive … and people need a place to live.
But Arizona is experiencing a very strong resurgence of covid-19 cases. How will home buyers and sellers react?
It seems apparent, buyers are going to "mask-up", keep shopping and making offers if they can find a suitable and available home. I expect sellers are going to be more cautious; not April/May cautious, but more cautious. If so, the demand excess gap will widen even more.
Click Here for the ARMLS May 2020 STAT report with Commentary below the graphics.