Your Housing Market Info Resource
As with all metropolitan areas, there are substantial differences in housing prices, sales, listings, etc., across the metro area.
For an immediate comprehensive report for any metro-Phoenix city or zip code
click the link just below and enter the city or zip code of interest to you.
metro-Phoenix Market Report … any City or Zip Code
For any subdivision or map area that is of special interest to you, we can provide you with much the same information. Just give us an email or call.
metro-Phoenix In-Migration – #1 in USA
Every month since January 2016 to the present day, Maricopa County AZ has had the highest or near-highest increase in population of ANY county in the entire USA.
According to the 2020 census recently released, Maricopa County Arizona had the largest gain in population of any USA county in 2020 … 86,820. Clark County Nevada, 2nd place, was less than half … 40,079.
If Maricopa County were matched against states … only three states had a higher 2020 gain in population: Texas – 373,000+; Florida – 241,000+; and North Carolina – 99,000+. Maricopa County would be fourth at 86,000+. Georgia was fifth at 81,000+. For a more complete discussion of the 2020 Census and Maricopa County, see The Willcox Report
Why?
The driving factors for Arizona in-migration, especially on California residents, are a lack of natural disasters, relatively moderate climate, and relatively low cost of living … and homes, even yet compared to California. COVID has greatly deminished the inclination for local residents to move, especially long distance to another state. The effect of COVID has been to increase the migration net to a higher plus for Arizona.
Supply vs. Demand
While population growth is feeding the "Demand" side of local economics, grossly insufficient new housing construction is starving the "Supply" side.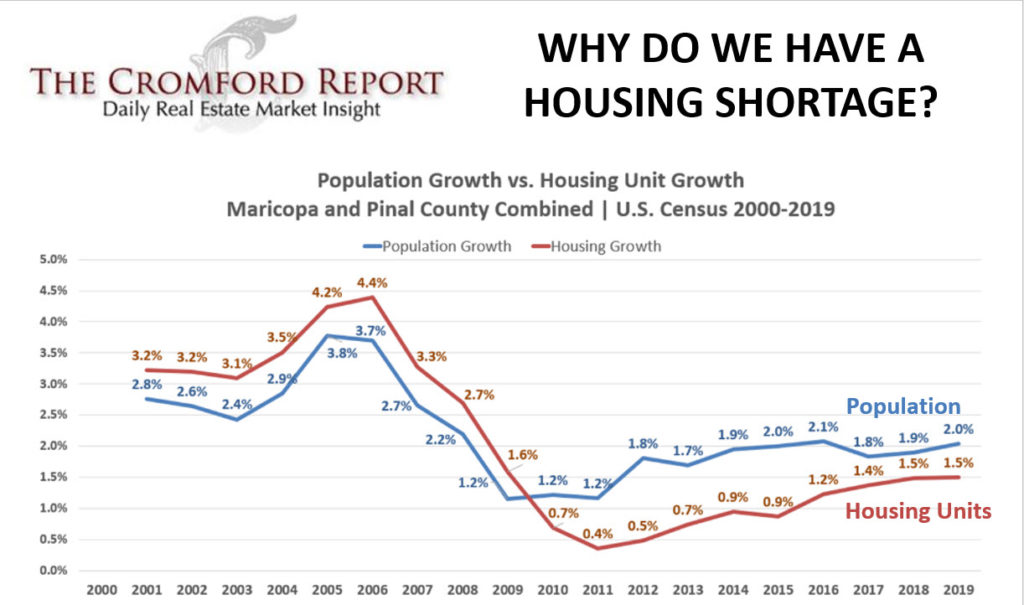 Apartments units are being built in the metro-Phoenix at likely the highest rate ever, but this isn't keeping up even as temporary housing.
The volume of new construction has increased substantially over the last few years but it's nowhere close to the maximum level in 2005. Builder determination to not go through another crash is one factor, but lack of construction workers may be an even bigger obstacle to increased volume.
Moving Less Frequently
In addition to COVID inducing people to stay in-place, there seems to be a growing trend to move less frequently. The combined effect of low construction and low out-migration has been a monumental decrease in the number of homes listed for-sale, as illustrated by the following chart. The number of homes listed for-rent is equally low.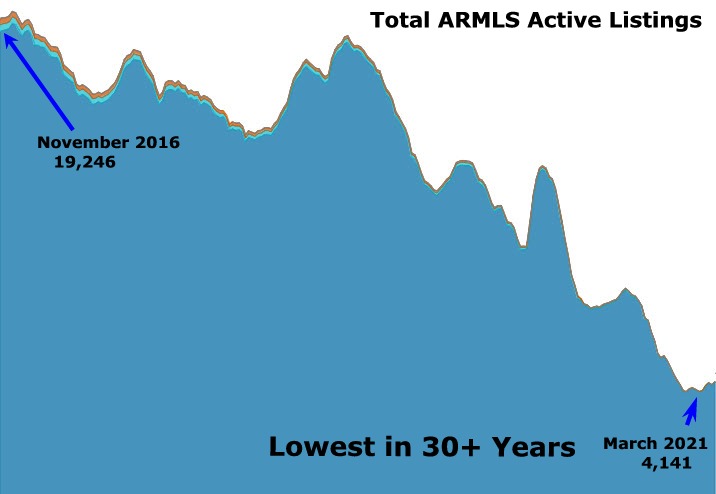 Prices – New Records
Extremely high demand verses extremely low supply … what's the predictable result?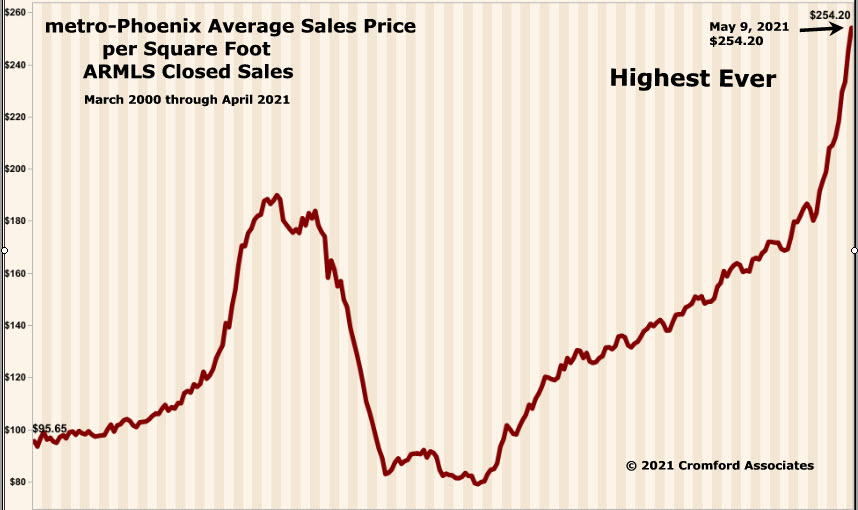 COVID dampened buyer motivation dramatically in March/April 2020, but only for about 45 days. Home buyers were again thrashing the local market by mid-May 2020. And this activity has continued with increasing intensity … with severe intensity starting early March 2021 and continuing to the present day.
For information, guidance, services, questions …
Give us a call!  We're here to help.
No strings … no obligations!
Call today! You'll be glad you did.