metro-Phoenix Housing Market
As with all metropolitan areas, there are substantial differences in
housing prices, sales, listings, trends, etc., across the metro area.
For any city, zip code, area or subdivision that is of special interest to you,
we can provide you with comprehensive, current market information.
Just give us an email, text, or call.
metro-Phoenix Housing Market
Since January 2016, and perhaps prior, to the present day,
Maricopa County AZ has had the highest or near-highest
increase in population of ANY county in the entire USA.
Considering the lack of natural disasters,
relatively moderate climate,
relatively low cost of living & homes,
this is likely to persist for quite some time.
Predictably, supply-and-demand factors have pushed
every "demand" metric to the extreme highs
and every "supply" metric to extreme lows.
As shown by the graphic to the right, the metro-Phoenix housing market has been in a unique status, extreme status actually, Buyer demand has been very strong while supply, the number of active listings, has been lower than for decades. In the first quarter of 2020, the dollar volume of Closed sales in ARMLS was the highest EVER. The highest year total for that metric was for 2018. Second-highest was 2019 – the bottleneck here being very low supply/inventory of homes listed for sale.
Coronavirus changed all that dramatically, of course.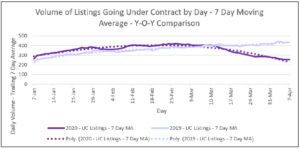 Listings are still being sold, going to "Pending" and UCB status, but the daily trend in severely down, as shown by this chart.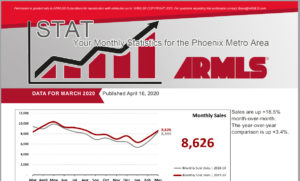 For a copy of the latest monthly, comprehensive report with commentary from ARMLS, Click Here … 2020-03-STAT.
For information, guidance, services, questions …
Give us a call!  We're here to help.
No strings … no obligations!
Call today! You'll be glad you did.