In three of last four months, 2018 ARMLS home sales have been lower than in same months in 2017. Is a crash in the making?
Hiccup or Trend Reversal?
Since at least the start of rising interest rates about a year ago, the national real estate industry press has been essentially pessimistic about the near-future of the housing market. All the while the metro-Phoenix housing market has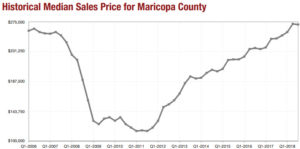 been advancing rather robustly in terms of sales volume, sales prices, declining days on market, and rising rents, as illustrated by this chart of metro-Phoenix housing prices over the last twelve years.
But notice the little down-dink right at the end, following the continuous climb from the bottom of the recession in August 2011. And as shown in this table, Maricopa County homes sales in three of the last four months in 2018 have been lower than in 2017
… fewer sales and declining prices.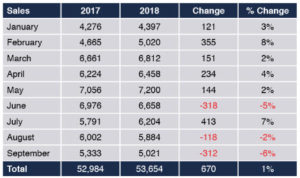 There are a few other down-dinks in that chart, but none persisting over a four month span.
Is this a trend reversal, or a hiccup?
For all of 2017 and so far in 2018, Maricopa County Arizona has had the highest in-migration of any county in the entire USA. Plus the cost of living here is very reasonable compared to most east coast cities, and especially compared to all of California. Both of these factors have a significantly positive impact on the demand for local housing.
Florida is the nearest competitor but even east-coast stalwarts are realizing that Florida is largely about hurricanes, humidity and bugs … plus alligators in some places. Metro-Phoenix is hot June through August … that's it … which is largely not an issue for "morning" people who don't have to work outside.
Significant "headwinds" do exist … very low inventory, significantly higher prices than in 2017, and rising interest rates … all particularly impacting first-time buyers.
In September there was also just 19 "business" days, one less than in 2017. That may seem trivial but it's a built-in 5% lower volume of closed sales since the county recorder's office does not work weekends or holidays.
Bottom line:  unless some sort of national crises pops up, strong demand will likely result in a continuing positive trend to the local housing market for the foreseeable future.