Arizona Haboob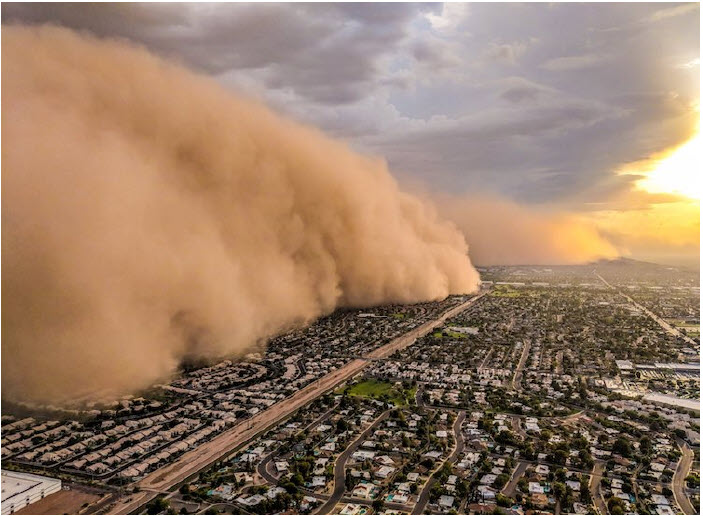 These cause everything outside to get very dirty … until the typical following rain washes most of that off … except not from vehicles. Car washes love haboobs.
Arizona, and metro-Phoenix especially, likely has fewer "natural disaster" type events than any place else in the USA. Following is a discussion of the few that have occurred over the last several decades.
Earthquakes … since 1900, nine earthquakes have been recorded in Arizona. The highest recorded magnitude was 5.3, which likely didn't make any news in California.
Tornadoes … Officially, Arizona has had 237 tornadoes from 1952-2014, killing three people in that 62 year span. In Tucson in August 1964, a tornado killed two people. In 1974, Tucson was hit again: one killed, 40 injured.  Those were "real" tornadoes. The common Arizona "tornado" would be referred to as a "strong dust devil" by people in places like Oklahoma.
Hurricanes … don't make it to Arizona but a few hurricane remnants have survived to get into Arizona and dump lots of rain, commonly in western Arizona. Since 1990, the one significant remenant to get to metro-Phoenix dumped 6.25 inches of rain on Tempe in September 2014. See Floods below.
Wildfires … only remote and isolated parts of metro-Phoenix have sufficient fuel for a significant wildfire. In 1995 in the very far northeast section of the metro area, a lightening bolt caused the desert to catch fire. Three days and 23,000+ acres later, the fire was out … with no deaths, no injuries and no structures lost.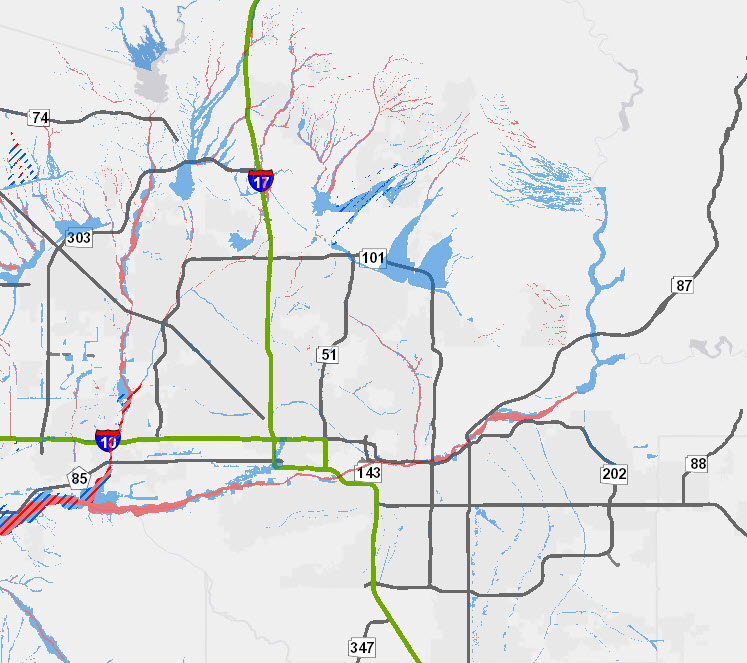 Mudslide … Dirt on the local mountains was washed away long ago. Not much but rock is left.
Flood Zones … some areas of metro-Phoenix require flood insurance for mortgage financing, indicated by blue on the map. The risk for the vast majority of these areas is from water running down the street, a sort of localized flash flood from water washing off a mountain. The water for most of the areas has been channeled so that most properties do NOT require flood insurance.
Floods … the National Weather Service lists five … 5 … "Significant Arizona Floods" going back to 1891. Tropical storm remnants of hurricanes coming up from Baja have brought heavy rains, the last occurring in 2014. And heavy summer monsoon activity has contributed to these events, but this activity is declining. As reported in an ASU study, in Phoenix 2000 through 2018, only four years have been over the "average" for the total rainfall during "monsoon season".
Monsoon Season … the summer time span when an unusual amount of moisture is in the air and rain has higher than normal potential.
"But it's a dry heat!" … common words following a description of metro-Phoenix summers … and it does make a great deal of difference. Typically, national weather services list the summer metro-Phoenix "feels like" temp three to five degrees lower than the actual temp.
Prior to 2008, the Phoenix area monsoon season was considered to start when three consecutive days had a dew point of 55 degrees or higher … which is still a relatively low humidity … but not for metro-Phoenix. On average, these conditions have first occurred on July 7. The average ending date, the fourth day with the maximum dew point below 55 degrees, has been September 13. In 2008, the National Weather Service "decreed" June 15 as the first day and September 30 as the last day of the monsoon season, for what purpose and benefit is unclear, especially as climate changed has delayed and diminished monsoon.
For the more dramatic monsoon events, the buildup is VERY obvious. Starting after noon, huge clouds start to grow in the far northeast, gradually growing and expanding toward the southwest. The metro area heat will totally evaporate most of these buildups, but some will eventually cover all of metro-Phoenix by 7 to 8 PM, at which time the rain typically starts to fall. Winds throughout the afternoon can be quite gusty … even to the point of a haboob.
High Heat … the norm for summer has been 100 to 110 F, with maybe a half-dozen days in the 110 to 115 range from June 1 to August 31. Everyone knows and expects that so there's no "disaster" to this. Seldom does the temp go over 115. However, in 2023, July saw every day over 110 … hopefully, an abnomality.
Most "morning people" who do not have to work outside will find these summers quite tolerable. Most early mornings will be in the low 80's with humidity under 30% … perfect for golf, jogging, or most any other outdoor activity.
Most "night people" will not like these summers at all. It can be 100+ to near midnight.