Monthly metro Phoenix home operating costs
… are still reasonable … but have increased substantially recently
Electricity
The monthly cost of energy for an all-electric home ranges from about $0.06/sqft for April and October up to $0.20/sqft for July & August, with an average of  about $0.12/sqft … depending greatly on thermostat setting and  home age – newer being more energy efficient, of course.
For a 2,000 sqft. home, this translates to a monthly average of about $240 (2000 x $0.10) between extremes of $12 and $400. Homes with natural gas for space and water heating have somewhat lower energy costs December through February, with comparable total costs the other nine months. An owned solar system can greatly decrease electric costs.
Most providers charge for service initialization and may require a deposit, typically an estimate for one month of service.
Water
Water in most parts of the metro area is quite reasonable.  (Surprise!!)
A  high monthly cost for water for a residence within the City of Phoenix would be $35, to which would be added sewer and trash pick up costs, for a typical monthly bill under $80 for all of this.
There are exceptions, such as in Anthem and the town of Paradise Valley, where the town or community is in a unique situation, but  high water and municipal service costs are NOT common.
To check the current costs for your specific community of interest, call the "water" number for the respective city on the Utilities page.
Natural Gas
Southwest Gas has a monopoly for the entire metro-Phoenix area. Fortunately, this cost is also relatively modest.
A home using gas for hot water and space heating will range from about $0.01/sqft (yes a penny) in the summer to maybe $0.09/sqft in the winter.
For information, guidance, services, questions …
Give us a call!  We're here to help.
No strings … no obligations!
Call today! You'll be really glad you did.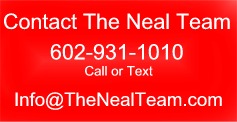 Other Arizona Homeowner Issues