"Agency" … What is it?
"Agency" is a relationship in which one party (the agent) acts for (represents) another (the principal, a buyer or seller) in business dealings with third parties.
First and foremost … in all circumstances … the REALTOR® Code of Ethics obligate a REALTOR® to be honest and truthful with all parties… and … to disclose all known facts that might materially and adversely affect the decision to buy or the consideration that would be paid for a property.
This means, for example, that a Listing Agent MUST ensure that all material issues are made know to the buyer. The standard means for doing that is the SPDS … click here to read all about that document. The seller creates this disclosure but the REALTOR® must check that all material issues of which he/she is aware are disclosed, including issues the seller might rather not reveal.
Besides ethical issues, the SPDS has continuing liability for the seller. Minimizing that future liability is very much part of the Listing Agents job. Full disclosure on the SPDS is how that's done.
… except …
Arizona law excludes from such required disclosure that the property is or has been
the site of a death or felony
occupied by a person having a disease not known to be transmitted by common occupancy
located in the vicinity of a sex offender.
The Possibilities
For an Arizona real estate transaction, a principal and agent may have any one of three possible agency relationships:
Buyer's agent … buyer is the client of the agent
Seller's agent … seller is the client of the agent
Limited Representation … there is no client … also called "dual agency"
Why should a buyer or seller require a "client" relationship?
an agent cannot disclose a client's confidential information
an agent cannot disclose that a Seller client will accept a price or terms other than as stated in the listing
an agent cannot disclose that a Buyer client will accept a price or terms other than as offered
To their Client, agents have the fiduciary duties of confidentiality, accounting, reasonable care, loyalty, obedience, and disclosure.
As stated above, agents are obligated to be honest and truthful with all parties and to disclose all material facts .. except the three listed above being excluded from required disclosure.
Limited Representation
Dual agency is allowed only with the prior written consent of both buyer and seller. The AAR form for this is the Consent-to-Limited-Representation
In dual agency situations, agents usually refrain from giving any advice because damaging information could be accidentally disclosed.

How is Agency established?
The Arizona Real Estate Agency Disclosure and Election is the AAR form by which buyer and seller choose the form of agency they prefer. This is NOT a contract or employment. It is an "instruction".
Agency Employment Contracts
In Arizona, these documents actually establish a relationship between the principal and the "designated broker" for the real estate company … NOT with the agent, who is "associated" with the designated broker. For a more complete discussion of the technical nature of brokers and agents see Arizona Brokers and Agents.
A REALTOR® will not undertake to sell a property without a listing agreement. In contrast, probably less than 50% of agents use the Buyer-Broker agreement, primary because most buyers are reluctant to sign any sort of obligatory document despite that there are benefits to the buyer. That document does NOT include any sort of obligation to buy a property. It's an obligation to use the agent IF a property is purchased within some time period.

What does all this mean to … The Buyer
The Buyer can always benefit, usually greatly, from insights and guidance that a REALTOR® can provide. Much of this insight and guidance could be severely restricted in a dual agency situation. Thus, a buyer should usually require/engage the services of a Buyer's broker … click for more detail.
This is particularly true when buying a new home. The builder's salesperson is limited, by the "agency" rules and builder policies, in the advice that can be given to the buyer. In fact …  builders universally require buyers to sign a form acknowledging that the salesperson represents the builder and is restricted in the advice and information that can be given to the buyer.
It is also important to note that the services of a REALTOR® are totally FREE to the buyer in the vast majority of transactions … the commission is taken from the net cash to the seller at closing.
What does all this mean to … The Seller
The seller is usually the person most knowledgeable of the property. Perhaps more importantly, agent advice is typically rather thorough in the process of setting up the listing. Even negotiating strategy can be discussed in the preliminary stages well before any buyer is involved.
Plus, listing agents often agree to a lower total commission if no commission is to be paid to other agents. For example, the listing agreement could state that the total commission is to be 6%, half of which is to be paid to the buyer's agent if there is one … but a total of just 4% if the listing agent produces the buyer and no commission is to be paid to any other agent. This is a win-win situation for the seller and the listing agent … seller pays less commission while listing agent gets 4% rather than 3%. Of course, the listing agreement must specifically state this.
Thus the Seller has much to gain and little to lose with "Limited Representation".

Dual Agency – Can it work?
The answer … Yes, but …
As discussed above
a buyer will almost always be better served by having a buyer's agent working exclusively for the buyer's best interests, plus those services are free to the buyer
the seller gets limited benefit as a client plus could be paying less in commissions with dual agency.
Thus, a buyer should not be influenced by the seller's willingness to consent to dual agency.
In a dual agency situation,  the agent is attempting to serve two parties who have conflicting interests.  The agent will have conflicts related to the duties of loyalty, obedience, disclosure, and/or confidentiality. These conflicts are why dual agents are required to obtain the informed written consent of the parties before acting as a dual agent.
For some examples …
May a dual agent aggressively work to secure the best possible price for one party? No! A dual agent can do nothing to advance the interests of one party over the other. For example, a dual agent should not make comments to the seller such as "These buyers really love this home, you should counter for a higher price."
May a dual agent point out to a buyer a negative characteristic of the property? A dual agent need NOT point out a negative characteristic that are NOT "material" facts. For example "These large windows are impressive, but they may increase your summer utility bills." … might be "legal" for a listing agent to say, but hardly likely to be said.
Lastly, it's important to keep in mind that a licensed real estate agent is NOT necessarily a REALTOR®. Such agents are not obligated by the REALTOR® Code of Ethics. Ask! Are you a REALTOR®?
For information, guidance, services, questions …
Give us a call!  We're here to help.
No strings … no obligations!
Call today! You'll be really glad you did.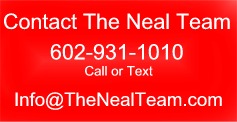 Other Arizona Home Buy-Sell Issues