If inspection reveals serious problems and you cancel the deal, you don't get the inspection cost back … which could be the best $500 or so you ever spent.
Choose your home inspector carefully
For a home buyer to spend the $400+ to obtain an inspection during escrow for a home purchase that involves on the order of 1,000 times the cost is just common sense. But a sloppy, careless or incomplete inspection might be worse than none because of a false sense of security, or invalid flaws reported.
One of my favorite publications is CONSUMER REPORTS. I've subscribed for decades. Over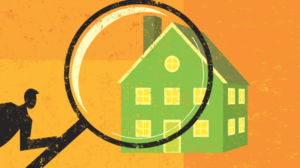 the last few years, they have started to take on products and services related to buying, owning and selling a home. Early this year one such article was How to Choose a Home Inspector. The article makes many good points, as usual, and it is definitely worth reading, but I take great exception to
"…One caution: Think twice about hiring an inspector recommended by your real estate agent.
Because inspections can cost the agent the sale, an inspector may feel obligated to go easy."
Not so! Almost every buyer who cancels a purchase over inspection issues is just going to find another home to buy. There may be more work involved for the agent but seldom a lost sale. I'm disappointed that Consumer Reports didn't think more deeply about that issue.
Industry advice to real estate agents is to not recommend any home inspection company because of the potential liability involved. For sure, an experienced agent is NOT about to recommend an inspection company that does poor work.
Given 20+ years as full-time Realtors®, we have experience with well over 500 home inspections on either the buyer or seller side of the transaction. We feel we owe our clients the benefit of that experience.
In Arizona, home inspectors must be licensed and the qualifying requirements are significant:  an application process that includes fingerprints and a background check; 84 hours of classroom training; pass a national "Home Inspector" exam; and 30 hours of on-the-job training. See the Arizona chapter of the American Society of Home Inspectors for more detail … AZ ASHI … including the Home Inspectors Standards of Practice.
More importantly, an individual inspector just starting out is not likely able to generate the business volume to make a living even if highly experienced in contractor and/or home building fields. The individual inspector is almost certainly going to be associated with a home inspection company having satisfied the company's experience and knowledge requirements that are going to reflect the concern every such company has for the liability issues inherent to the business.
So the home buyer is not likely to be choosing a home inspector, but rather a home inspection company.
We have identified a few companies that have consistently produced inspection reports that reflect a thorough process, include photos to evidence the issues, and are produced in a very timely manner. We provide the names of those companies to our clients as a starting point to making a choice. Clearly that's a better place to start than Goggle. Of course, we fully support the inspection process by whatever company the client chooses.
A critial issue – Know what to expect! What is the scope of the inspection? What gets inspected and, more importantly (1) what does not get inspected and (2) what is the extent of inspections? What additional, specialized inspections are available?
Most fundamental … all base-level home inspections are visual, non-invasive, non-scientific observations by a person knowledgeable of home construction and systems. Likely NOT included in the base-level inspection are solar panels, security systems, landscape irrigation systems, swimming pool systems, or tests for radon or asbestos or mold or water quality, etc., etc. … possibly plus lots else.
Every inspection will be subject to a Home Inspection Agreement sample that will specify the scope of the inspection. A review of this document of each inspection company you are considering is a fundamental part of making that choice.
The cost of a home inspection depends on the size of the home in square feet, the number of stories, its location and the scope of the inspection in terms of what gets inspected as well as the depth of the inspection. For extra cost, all inspection companies will add some components beyond the base-level inspection. Also consider specialized inspection for issues of special concern … such as AC systems, wells, septic systems, solar systems, etc.