An ARMLS portal is
direct access to the best and most complete info on the planet for properties in the metro-Phoenix area
the exact same database, search tools and reports used by local Realtors®
the source of all Internet homes-for-sale information
… a portal is direct access to this info … potentially ahead of the entire Internet
How do you get your portal?  Call, text or email TNT – The Neal Team
… 602-931-1010  or  480-310-3700  or  info@TheNealTeam.com
… Your portal could be available to you within minutes.
The searching you can do on this website, homes-phoenix-az.com,  is as good as available to the general public. The search tools in an ARMLS portal are stronger and more extensive … after all, these are the tools used by Realtors® to do their job … and the data is more current.
Here's what happens when you request a portal …
We will ask about your basic search criteria … Price limit, minimums for square feet and bedrooms, the number of levels/stories if you have a preference, and the general area/location you are interested in. We create your portal and a search for homes listed for sale using your criteria, save that search to your portal, then send you this email from within the portal: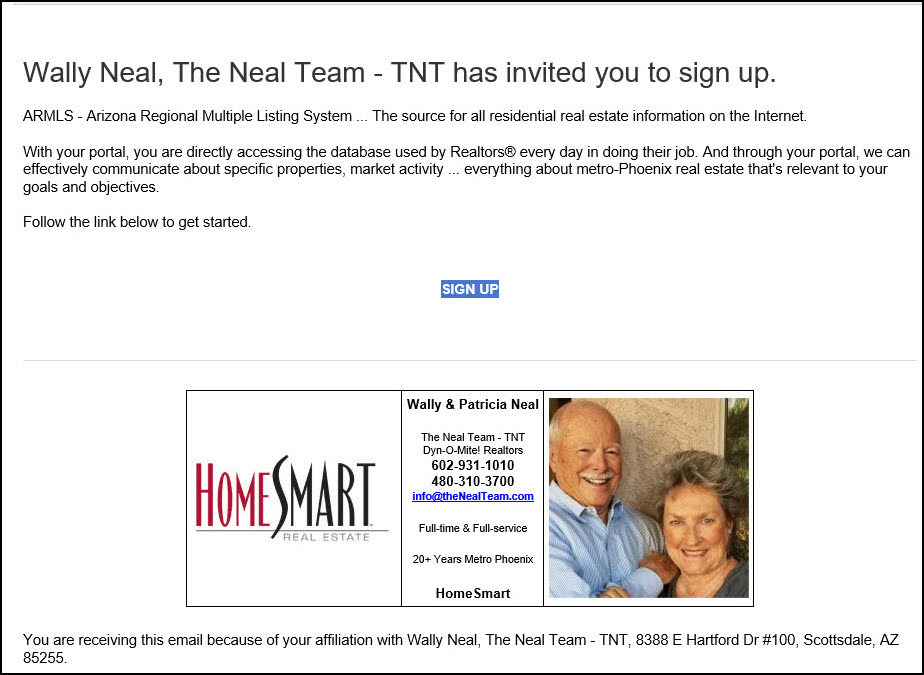 Just click SIGN UP. This will get you to an Internet website where you will enter a user id (your email address), your name, and the password you want to use
… bookmark this page so you can get back for more visits … then click CONFIRM … Your portal and your login is set. You will immediately be taken to the results of the home search. The information presented here will be current as of the moment you click the link to the page.
This is the URL for that page:  https://portal.flexmls.com/tntportalw
Every time you login, a popup will offer the opportunity to go through a tutorial, video or PDF. It's a rather intuitive system, so I suggest you initially bypass that. You can go through one of the tutorials on any subsequent visit.
Property information is displayed in one of several formats … LIST  DETAIL  PHOTOS   MAP … the display control tabs are at top-right above the display window. Just click whichever format you want to see.
For all of the displays, all of the properties matching the search criteria will be listed in a column on the left side of the display.
In the LIST display, the list of properties can be sorted by clicking any column header, then choosing 'Ascending' (a to z, or low to high) or 'Desending' (z to a, or high to low)
On the MAP display, there will be a gray circle with a white star on the map for the property at the top of the list. As you click in the left column to go to a property lower in the list, the white star will move on the map to the location of that property. The MAP display will also highlight the search area.
DETAIL has three sub-level displays: REPORT HISTORY and TAX-INFO
REPORT is the detailed report for the property. HISTORY presents a list of the prior listings of the property, both for-rent and for-sale listings, if there have been any, and there will be at least one – the current listing. If you click anywhere in the HISTORY band for a listing, all of the details of changes to the listing will be presented … such as price changes.
TAX-INFO presents the ARMLS parcels database info for the property … who owns it, when purchased, price paid, etc., as well as info for the subdivision.
You can't hurt anything, so, please, explore this system.
The searches I've created for you will be listed at upper-left of the portal page. These are just the starting point. I will be delighted to adjust these to the areas and criteria of special interest to you until the search is clearly focused on properties you want to see. Just email or call with any changes … or additional searches. There is no practical limit to the number of portal searches.
If you have any difficulties with this system, questions, issues, etc., or to take a look at a property that might be of interest, please call or email.
If you are truly seriously about your search, once your criteria is focused, we can set an "Alert" for the search. Then whenever a new matching listing is entered to ARMLS, or a matching property changes status or price, you will get an immediate email notice. This is the absolute best way to stay right on top of all properties that are of potential interest to you.
Have questions? Give us a call! We're here to help. There's no obligation … No strings attached.
Our intent is to exceed every client expectation.
Our #1 goal is to earn your trust for "My Realtor!"
Give us a call, text or email.
You'll be really glad you did.
Other Arizona Homeowner Issues