The USA has a housing shortage. Metro-Phoenix has a housing crisis.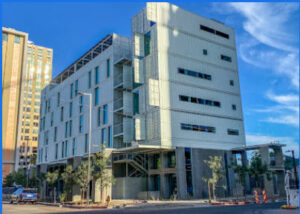 Perhaps there is no stronger indication of the true nature of a situation than the innovation and novelty in the approaches to managing that situation.
The following three building projects may reflect the future metro-Phoenix inner-city housing development.
Ida on McKinley … Six stories … 18 residential units
… all from containers … No/zero parking
This apartment complex is being built on what was a small parking lot … just 22 parking spaces.
Here are some articles about it:
https://dtphx.org/2022/05/26/peek-inside-downtowns-next-shipping-container-housing-project-ida-on-mckinley/
https://www.phoenixnewtimes.com/news/ida-on-mckinley-is-tallest-shipping-container-tower-in-north-america-13693917?ct=t%28SAAR_News_June+12_2022%29
The Oscar … 10 residential units … 2 retail spaces … all from containers
http://www.theoscarphx.com/
Culdesac Tempe
… Ultimately 761 residential units … 16,000 sqft. of retail
… no/zero  parking
https://communityimpact.com/phoenix/tempe/development/2022/05/16/carless-community-to-open-first-phase-in-tempe-this-fall/
NY Times Article … writer has likely never been here
In the NY Times article, metro-Phoenix is tagged as "the least sustainable city" because of sprawl.
Metro-Phoenix has more sunlight than anywhere in the USA outside Arizona, and solar is being adopted at a high and accelerating rate
… sustained energy directly for every residence and vehicle.
Plus, metro-Phoenix has no hurricanes, no tornados, no floods, no ice storms, no wild fires, etc.
New York City, and others like it, are more sustainable than Phoenix??? I think not!
Because of the worst drought in 1200 years in the Southwest, Arizona does have a water issue. Fortunately, an infinite supply is only a couple hundred miles away in the Gulf of California.