… and inner-City Living is seeing a lot more interest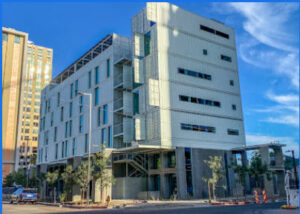 This is the surest possible sign that the metro-Phoenix housing market is back. High-rise condos are the type of dwelling that is the "last to rise" with an improving "market tide", and the "first to fall" when that tide goes out. In downtown Phoenix, numerous condo projects are "full speed ahead". Plus. Frys is building a high-rise supermarket right in downtown Phoenix.
All high-rise condos, also referred to as apartment-style, are minimalist in terms of functionality … have very limited storage, involve a trek from the car to the fridge, have zero for a front or back yard, and near-zero for any outside space.
That same condo can, of course, be spectacular in terms of views, design, convenience to places the residents want to frequent, shared amenities, minimal maintenance, convenient maintenance – lock and leave for months, security, etc.
If you have the priorities and lifestyle preferences that match what an apartment-style condo provides, there is really is no other solution. And it's obvious that all cities are going to become more dense over the long term. A very brief review of New York City residential real estate listings makes clear where all big cities are headed.
But … be advised … high-rise condos are presently risky investments in Arizona. If you have a matching lifestyle, you could logically buy one to live in, but the logic is rather weak to buy one to be a rental unit … except only for cash and then in a "low tide" market, which metro Phoenix has recovered way past.
It's not clear to me where the high-rise condo-people disappear to when the housing market starts to weaken, or why, but quickly disappear they do. And there are difficulties here even in normal times.
First, you will have very close neighbors in nearly every direction … not good if one of those neighbors is frequently noisy, or is causing other "neighbor" issues. Second, your neighbors need to regularly pay that relatively high homeowner association (HOA) fee. A bankrupt HOA is a very bad situation for a condo because the HOA actually owns and maintains all the physical facilities except the interiors of each unit and supporting systems (such as the A/C unit on the roof).
And you hope all of your neighbors are owners – the bad reputation for renters maintaining things has largely been earned. Unfortunately, a great many (most?) condos are occupied by renters, a situation caused in part because the owners decide they don't like the lifestyle after all, but cannot sell the unit for what they paid. Such condos are very likely to be "underwater" in terms of rent vs. costs.
And that brings us to another issue … getting a loan on a high-rise condo is NOT easy … actually not possible for a FHA loan for the vast majority of condos. The LA Times published an article detailing the issue wherein it was noted that only 10,020 condo projects out of about 144,000 in the USA are approved for FHA financing. FHA doesn't like condos because most have too large a percentage of renters and/or have HOAs that are financially weak and/or are not doing an adequate job of maintenance and management.
I am truly delighted to see the high-rise condo market come back, and hope it stays healthy for a long time. And, like I said, if a high-rise condo fits you, there is really no other choice.