Although the linked PDF is entitled "for Selling", the tips apply just as well for preparing to Lease, or just making the home a more attractive, less cluttered and nicer place to live.
50 Home Tips – for Selling, Leasing or just Living
There are "tons" of articles about preparing a home for sale … a couple previously published on this website. I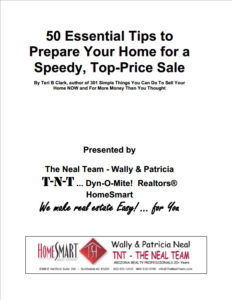 seldom take a look, not even briefly, but the title of this one offers "50" tips, and the author tag line indicates she has a total of 301. Really??  That would seem to require a good many of the "tips" to be rather trivial.
With that thought, I had to take a look. I don't know about the other 251 (301-50), but the 50 in the linked PDF are all worth considering. You can check it out and download if you wish – just click this link … 50_tips_for_selling
I would note that this is a Pre-Virtual-Staging article. For example, the Internet presentation of an empty house now days can be fabulous. But the bulk of the tips fully apply today.
Want to see samples of perfect home prep … take a look at a few new-home models. Yes, a home that's lived in is never going to be so "perfect" and impersonal, but  the closer you get to that simplicity, the better.
The before-and-after photo included below illustrates the effect of "staging" a home for sale or leasing, which can have a very powerful, positive impact on home selling efforts. "50 Tips" includes staging sorts of changes, but goes deeper than staging.