When the buyers come looking, your property needs to do some selling.
Marketing produces traffic – Ultimately, the property must sell itself
The pictures of the home looked great … but the home didn't look so great. What a difference there can be between what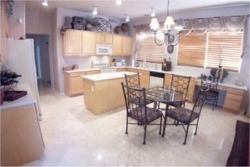 you see in the pictures verses what you see when you walk through.
Clever photography, enticing descriptions and a market price will produce buyer-prospect traffic. Ultimately, it's the nature of the property that produces the sale, or not.
"Curb Appeal" … yes, it's very important … if it's bad, the buyer-prospect might not even get out of the car … but alone, it's not sufficient.
"I could live here exactly as it is." … ultimately this is the thought you want the buyer-prospect to have. "I could live here but some minor changes are needed." … might result in a sale if the price is definitely "at market".
"I could live here but major changes are needed." … will cost a lot in terms of the sale price … because of the cost of the change plus the delay if the buyer can't move in until those changes are made. Most buyers are needing to move now, or at least soon. Add a month to the escrow month and you have at least a difficult delay for most buyers that only a low price can motivate them to endure and pay for. And a really low price to entice a buyer that must move now and be willing to live around the mess involved in major renovations.
Many aspects of a property are not changeable, or not feasibly changeable in prep for a sale, such as location, square feet, number of stories, pool or no pool, garage spaces, etc.
What are the critical aspects of a property that are feasibly changeable?
Cleanliness throughout!  Absolutely vital! Fortunately, this is easy and cheap to achieve.
Flooring!  It's almost impossible to "live around" major flooring upgrades … other than carpet replacement, which can be done rather quickly – but carpet is fast becoming the last choice for flooring type.
Structural integrity! Quality of the roof, fit of doors and windows, condition of the stucco or other type of exterior surface, condition of exterior woodwork (no dry rot), etc.
Kitchen components and style
Bath components and style
Exterior paint freshness!
Interior paint freshness and color!  Fresh paint goes a long way toward a perception of cleanliness. Except possibly for accent, bold colors are NOT good. A uniform warm-neutral color is by far the safest.
Landscaping design and components
Window coverings
Primary:  get rid of clutter; aim for a light, bright and spacious "feel" to all spaces; minimize the items hanging in closets.
What can be done to offset significant flaws?
Kitchen and Bath changes – paint cabinets, replace fixtures
… go with trends and colors, be consistent in terms of finish and style
Replace Lighting fixtures … entry fixture and dining chandelier are important
Window Coverings … bare windows are bad … cheap-looking is worse
"Move-in Ready!" Getting a property to this status and appearance for the likely buyer in a time- and cost-efficient manner can be a challenge, but well worth the investment in terms of minimizing the time to sell as well as the net proceeds.
For more about staging, click here … Home Staging