The article below is about taking "staging" to the extremes. To very likely have impact on both price and days-on-market, extreme staging is NOT needed. However, except in severe seller's market, to do no staging is very likely to mean a significantly lower price and longer time to sell.
What is "staging"? 80% of the impact is gained by no more than a thorough cleaning, putting every thing in its place, and packing away personal items. 10% more can be gained with attractive color in the right places and few enhancing décor items strategically placed. Going to the extremes. If well done, extremes might gain another 10% of the impact on a potential buyer's perceptions.
Arizona Republic 06/15/2014, Page R01
PENNY WALKER/THE REPUBLIC
SETTING THE STAGE FOR A SALE
Making your property look model-home perfect shouldn't break the bank
A staged home is not real. You know it, I know it, the buyer knows it.
When you walk into a bedroom with a throw placed artfully over the bedspread, topped with a tray holding tea­cups and cookies, you know it's fake. You know that little scene was created to sell the home.
And yet … it still works.
Though there are plenty of talented professionals who can help stage your home, it's entirely possible to do it yourself. If I, a supreme pack rat, can do it, so can you. Not counting a fridge I had to buy, I spent less than $250 to stage my house. Four days after my house went on the market in April, I received three offers — the final one $5,000 over my asking price, with no concessions.
So staging works. But what exactly is it?
According to Laurisa Huss of Chandler staging company Decor Divas, "It's creating inviting spaces and basically defining a space or warming up an environment."
If you've ever worn black pants to look thinner, you already know a little about staging. And it can make a difference in what you get for your home.
"Never underestimate the value of a properly staged home," said real estate agent Kevin Kauffman of Group 46:10. "I've seen it mean thousands and thousands of dollars."
The first step? Begin as soon as you can.
When my then-fiance and I set our wedding date for late March, I knew wedding insanity would take over much of the winter. So I began in October, on just one small space.
The first room to be conquered? The craft room, which had become a junk room. My goal was to make it a fantasy craft room.
The craft room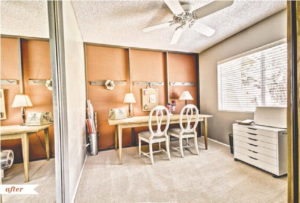 Emptied of everything except a few staging items,
the craft room became an airy space.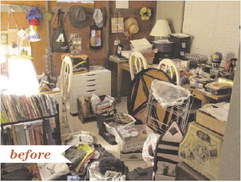 Like many spare rooms, it had become overrun by piles of clutter.
» Take out anything that doesn't fit the room's purpose. Removing everything not craft-related cleared out the room by half. You have to communicate to potential buyers the purpose of the space, and junking it up with other items just tells them that the home doesn't have enough storage.
» Is it needed for staging? If not, box it up. As tempting as it was to think I'd have time to work on craft projects in progress, I had to be ruthless.
» Create a mini staging-accessory store. As I worked, I pulled aside things that were visually interesting. This began a pile that I would use to "shop" from as I worked on the rest of the house.
» Remove half the furniture. Though in real life it was nice to have multiple workspaces in the craft room, the room flowed so much better when I removed one table and a bookcase.
» Keep staging until you hit an "aha!" moment. The room's tall bookcase proved to be the biggest challenge to style. It took friends' critiques and looking for items in other rooms (a trio of colorful canisters from the linen closet) to hit the right look.
I posted before-and-after photos on Facebook, and when one friend told me, "I want to LIVE in that room," I knew I had a winner.
Now I just had to do the rest of the house.
Guest room and beyond
In early December, I moved about half my furniture and much of the stuff to my now-husband's house. Most people don't have an extra home to shuffle boxes to. But nearly anyone can rent a storage unit or neatly stack boxes in the garage.
» Have a problem room? Take out stuff and play with proportions. In reality, my tiny guest room's full-size bed, dresser and bookcase made the room functional. But they also made the room too tight. All of the furniture was removed, replaced with a borrowed twin-size bed and a wooden high chair holding a lamp, giving the perception of space.
» Remember you're staging for the fantasy, not real life. Yes, in real life I like having my entire L-shaped couch. But it was too big for the living room, so moving half of it out (along with the room's bookcases) helped the room to breathe.
» It's not about you. There's a particular artist whose work I buy every year at Phoenix Comicon. Though I obviously love these prints, they're a little weird for the general public. So they got moved out, along with most of the personal photos in the house. A buyer needs to envision his or her things in the space, rather than being distracted by yours.
A common color
After a few months' break, during which two bright-blue rooms were painted the same gray as the rest of the house, I tackled the rest of the spaces. A common color palette helped tie everything together.
I had once seen a model home that used pops of red throughout to great effect. I already had a red couch, so I decided to copy that.
It didn't take much. A few new table linens were added to things I already owned (a red mixer and cutting board, plus accessories delicately sprinkled throughout).
I also created dining-room "artwork" with leftover scrapbook paper and three frames that had been gathering dust in a closet. It took 5 minutes and cost nothing.
The bits of red energized the otherwise neutral spaces. Decor Divas' Huss said she always brings color into the homes she stages.
"Everything in Arizona is so brown and tan and basic, you have to try to make it more inviting," she said.
Finishing touches
After I returned from my honeymoon, it took a few final tweaks to get the space ready.
» Open the blinds; turn on the lights. Light-filled homes show best. My lights would have to be on 24 hours a day (I wasn't living there while it was shown), so I replaced incandescent lightbulbs with cooler, more-efficient CFLs.
» First impressions count. Potential buyers can spend a few minutes outside the front door while the agent fiddles with the lockbox. My deadbolt and handle were beat-up brass, but three thin coats of RustOleum's Oil Rubbed Bronze spray paint later, I had new-looking hardware for pennies.
» Spend wisely. The best $14 I spent? A bottle of Rejuvenate Cabinet & Furniture Restorer from Home Depot, which made my kitchen's original 1970 cabinets and laminate countertop shine.
» Remember, it's all about the fantasy. I emptied the master closet except for a few empty storage containers, four fancy wooden hangers and one pretty blouse. Leaving just one blouse hanging was the tiniest bit ridiculous, but it also worked.
Have questions? Give us a call! We're here to help. There's no obligation … No strings attached.
Our intent is to exceed every client expectation.
Our #1 goal is to earn your trust for "My Realtor!"
Give us a call, text or email.
You'll be really glad you did.

Other Home Selling Issues