Deadly Home Seller Mistakes
Selling your home can be a stressful experience and just one mistake can make the difference between a profitable, smooth transaction and a miserable experience.
Discussed below are mistakes that commonly cost sellers serious money and/or big delays in getting property sold. Also discussed is general guidance for how to avoid all mistakes.
Although the mistakes are numbered here, any one of these mistakes can take on a much higher level of importance in any given circumstance.
For "social distancing", most home shopping is now done virtually making the videos and photos included in the MLS even more important. We, TNT, employ proven professionals to produce the best presentation possible with these images.
A few critical facts
… about the prospective buyers taking a look  at your property …
they are VERY knowledgeable … having looked virtually at many properties comparable to yours, with commentary on homes of interest from their agent.
they are the most "picky" type of  "shopper" … after all, this decision is going to have a major impact on their life
unless you have taken the time to also "look" at listings comparable to yours, they likely know the market better than you do … even better than your listing agent … even those buyers who came to your town for the first time just yesterday
they will recognize a bad deal or a clearly inferior product instantly
Mistake #1 – Pricing Incorrectly
A seller is justifiably more sensitive to the sales price than the buyer – after all, a $1,000 difference means that much difference in the bank for the seller, but only a difference of about $6, or less, in the monthly payment for most buyers. However, a listing priced too high often gets the seller less money because:
If time on market is more than 30 days longer, you will make more loan payments
If time on market is really long, buyers will negotiate more determinedly, even to insist on a below-market price
If the price is a lot higher than the low end of the seller's acceptable range, it is likely also higher than many prospective buyers' upper search limit … thus not even on the list of homes prospective buyers take a look at.
When setting the initial offering price, you must know:
The facts about prior sales in your area
The facts about other homes offered in the area – go see those comparable to yours
The difference between cost and market value – and that cost is not relevant
Is your home & area appreciating, or declining?
Are comparable properties available at a lower price?
How much bargaining room should be included – less is better. You can always hang-tough in negotiations and give up less … but only if an offer has been made.
It is a well-established fact – a price more than 10% over the true market value for the property is a near guarantee than it will not even be shown. If a property is on the market for a week or so with little or no traffic, believe the message from the market … the price is too high.
Mistake #2  – Difficult Access
A simple fact:  a property that is difficult to access is almost certainly going to take significantly longer to sell. "Appointment only" showings are the most negative, especially with restricted times and/or substantial advance notice. At the other end of the spectrum is "Lockbox – Vacant". Provide the most flexible and accommodating access as possible, else you will pay an on-market-time price … and very possibly a dollar price as well.
Mistake #3 – Failing to properly prepare the home
Buyers are looking for a home in which they would like to live, not for a house. Given the info and pictures in the MLS, the buying decision is at least 10% made even before the buyer first drives up in front … 20% made on arrival at curbside.  With poor curb appeal, at best the thought might be "maybe, at the right price" …. more commonly, the buyer doesn't even get out of the car.
The curb thought you want is "Wow!" … and it can mean a "big bucks" difference in the price you get.
If you were selling a car, you would wash it or maybe even detail it to get the highest price.  Houses are no different.
Then, when the buyer first walks in, you want the interior to convey a sense of "open, light, bright, spacious, clean, attractive, inviting … ".  Any aspect that conveys any sense opposite to any of these is a negative to your sales efforts.
It is increasingly true that the vast majority home shoppers these days are NOT interested in a "fix-up". Even minor fix-up is a negative, and not just to price; such often means no sale.
Mistake #4 – Interfere and/or "Hard Sell" during showings
Even with "virtual" shopping, the serious buyer will eventually want to take an onsite "look". For this event, keep in mind that buying a home is an emotional decision.  People like to visualize themselves and their stuff within the home.  It's difficult for them to do that if you follow around to point out every feature of the home.  In the first place, you do not know what the buyer is looking for – the features you are bragging about may be something the Buyer specifically dislikes so that you have the opposite effect you intend. Tasteful signs to point out features and amenities are a better alternative.
In addition to "social distancing", for selling, the best approach is to leave before the Buyer and his/her agent arrive.  Second best is to invite them in, then excuse yourself and go sit out on the patio or other out-of-the-way place.
Mistake #5 – Signing a listing contract with no way out
Many times an agent will have good intentions about marketing your home, but circumstances can change.  Personal situations change, or an agent may even decide to quit the business.   In cases where the agent couldn't or wouldn't perform, you should have the right to cancel the listing – not just get rid of that agent.
Without the cancellation right, complaining to the broker may get you someone else in the office, but not someone you personally selected – and/or the broker may actually be the problem.  Always protect yourself with the right to cancel anytime for any reason.
Mistake #6 – Dictating aspects for the marketing
A Realtor® who is good at selling homes will employ a broad spectrum of marketing activities, emphasizing the ones he/she believes will work best for you.  Classified ads rarely sell homes.  Open Houses are somewhat better, but results vary greatly property-to-property depending on many factors.
The Internet is the monster for making the public aware of a property, and there is both art and science to using the Internet effectively.
Buyers ultimately, with good reason, strongly prefer to employ a buyer agent, which brings us to the most important selling factors
a well written property description in the MLS
attractive visuals in the MLS
prompt, effective systems for contacts to your Realtor® regarding questions, showing and feedback. follow up and support
Discuss these thoroughly with prospective Listing Agents.
Mistake #7  –  Adversarial Attitude
The best negotiations are win-win in nature. The basis for success is a focus on your true wants and needs, not on the max you can get out of the deal. Be constructive and reasonably flexible, and have no emotions over the Buyers offer or demands.
Mistake #8  –  Over Improving
Having the biggest, most expensive property in the neighborhood applies here.  As does altering in a way that clearly does not fit the neighborhood.  You might build the biggest, or alter strangely to satisfy you own needs and preferences, but don't expect the next buyer to pay extra for any abnormality.
Mistake #9  –  Slow Response
Your responses to offers should be as prompt as reasonably possible.  If you are slow, the mindset of the Buyer can change out of the "buy" mode, or he/she can find another property. And prompt responses by your Listing Agent are even more important. This is absolutely critical. Check his/her responses from time to time.
Mistake #10  – Not knowing your rights and obligations
The Arizona Association of Realtors (ARR) Purchase Contract is many pages of rather small print.  It is designed to be neutral and fair to all parties, after all there are Realtors® on both sides of the transaction, but how the blanks are filled in can make a gross difference.
From your Listing Agent, get and read blank copies of all likely transaction documents … or see them here. Then ask questions about all confusing parts. Of particular concern is the Seller Property Disclosure Statement (SPDS). This is the written disclosure from seller to buyer that is required by the Purchase Contract. It is the one document that can survive closing by years.
Mistake #11 – Detach yourself from the effort
Be part of the sales team!  Make business associates, peers, friends and other contacts aware of your listing.  It's surprising how many homes are sold this way.
Mistake #12 – Choosing the wrong Realtor®
This might actually be #1. It's interesting that in the real estate business someone with much more experience and success selling homes typically costs no more than a much lesser agent, and this is despite that bringing that experience to bear would likely mean a higher price, selling in less time, and/or with less stress and hassles.
Even the best Realtor cannot "fix" location problems, or other such, but a good Realtor® will timely take the critical actions, will apply the techniques best for your property, will timely adjust to market changes and trends, and will avoid the deadly mistakes.
Also, the world is populated with agents who are truly wrong for the job.  For example, the housewife who sells an occasional house because she needs a little extra, or the insurance salesman who believes he can handle two careers, or perhaps your cousin George, who really needs the business. Your home is likely your most valuable asset.  It's your home and your money – Choose carefully.
There are many more costly mistakes that sellers can make, of course, these are only the most common. If TNT might be of service to you, or anyone you care about, to avoid selling pitfalls, please contact our office. Consultations are always completely free of charge and there is no obligation of any kind. Give us a call. You'll be glad you did!
For information, guidance, services, questions …
Give us a call!  We're here to help.
No strings … no obligations!
Call today! You'll be really glad you did.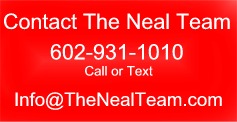 Other Arizona Home Selling Issues