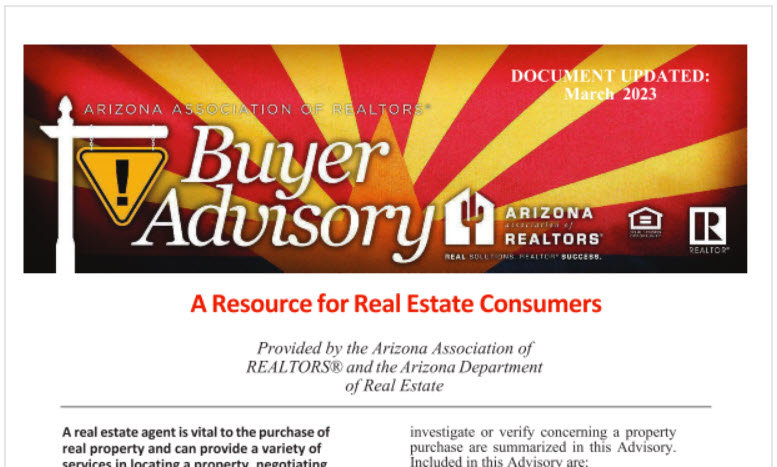 The Buyer Advisory is the best overall resource on the planet for Arizona real estate guidance and information.
Buyer Advisory  … FREE & immediately delivered Buyer Advisory
YOU want this document … if you have ANY interest in Arizona residential real estate
The Arizona Buyer Advisory for Real Estate is a guide to home buying consumers for satisfying themselves about the condition and desirability of a property they are considering to purchase. It covers the common documents to review, the physical conditions to be investigated, factors in the surrounding area to be considered, and much more.
The Buyer Advisory also provides Internet links to numerous other guides and sources of information for home shoppers.
Some very important documents the Buyer Advisory covers that are discussed in more detail in this website include:
Although the perspective of the Buyer Advisory is that of the buyer, the entire discussion is just as applicable to sellers, and sellers are equally advised to give it a thorough review.
Please note, even if you studiously go through this guide cover to cover, it would still be prudent for you to engage the services of a Realtor® to buy or sell Arizona real estate. You need not only to be aware of the issues and process, you also need an expert to manage your way through to a successful result.
You also need to know, as a home shopper in this housing market … be quick or be homeless.
An ARMLS Portal is the secret weapon successful home shoppers use to be sure to be quick to newly listed homes.  Take a look here for your FREE, no-obligation, customized access directly into the source of all homes for sale in the metro-Phoenix area.
unlimited access to the database and tools used by Realtors® every day
ARMLS is "the" source for all such data presented anywhere on the Internet
plus automatic notice of new listings information as soon as it's entered by a Realtor®.
With an ARMLS portal, Your Dream Home will come looking for You! … and immediately upon becoming available.
For information, guidance, services, questions
… or Your Custom ARMLS Portal
Give us a call!  We're here to help.
No strings … no obligations!
Call today! You'll be really glad you did.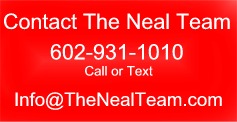 Other Arizona Home Buying Issues