How to Sell Your Home … Step-by-Step
How to sell your home?
…  or investment property …

What is the best first step?
What's the next best step … to collection of the check?
What are the little mistakes that have not-so-little impact?
What are the big (really costly) mistakes sellers commonly make?

Get this FREE 13-page booklet,
How to Sell Your Home … Step by Step,
… from the first serious thought … to collection of the check

… and even beyond in terms of the things a seller MUST do to ensure that there is NOT an ongoing liability lurking in transaction details and documents.

Even if you don't plan to sell for a while, this is an excellent outline and list of the issues you need to consider and prepare for.

Click Here
for Your FREE, no-obligation,
instantly-delivered copy of this very insightful guide.

How to Sell Your Home – Critical Issues:

The serious Buyers … are likely to KNOW MORE about "the market" for your property than you do, because the same day they come through yours, they have been inside every comparable property within miles of yours.
Close of the transaction … is NOT necessarily "close" for your "seller" liability. There are things you MUST do to ensure that the continuing liability potential is NEVER an issue.
The BEST buyer … is NOT necessarily the one offering the highest price.
An all-cash offer … is NOT necessarily the strongest offer.
A quick close date … can be very enticing, but is it real? Can that buyer's lender get the loan processed and funded by that date? If on that date, the buyer is not ready to close, what can be done? Should you boot that buyer out of the deal?
then Click Here
For Your Customized Portal directly into ARMLS
… direct access to the database and tools used by Realtors®
The best metro-Phoenix homes information on the planet
"The" source for ALL such data ANYWHERE on the Internet.
… complete details, pictures … ALL info
… for every property available
… and every property sold for 10 years
for any neighborhood you want to know about.
Even easier …
give us a call! We're here to help.
No strings … no obligations!
Call today! You'll be glad you did.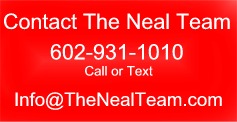 Other Home Buying Issues
Arizona – the most "western" State – Take a Look!