Arizona Home Buying – Relatively Simple
… especially compared to some eastern states. The major simplifying factors in Arizona are:
the use of title insurance, rather than exhaustive search of the transaction history of the property
use of escrow companies to facilitate the transactions
use of the AZ Association of Realtors® Purchase-Contract in re-sale transactions, which is designed to be fair between buyer and seller, and to produce timely closings
Despite the relative simplicity, dedicated professionals are truly essential because difficulties are likely, to some extent, in every transaction. Some of the critical factors are:
careful documentation of the purchase offer and negotiations
fulfillment of the agreement by both sides
financing tailored to your specific needs
conveyance of good title
a properly functioning residence
timely performance
Buying Process Plan
Following is an outline of a smart, focused approach that is most likely to produce the desired results for the lowest price and in the least time.  Although many people do it, just getting in the car and wandering around is a rather silly waste of time when you consider almost any alternative.  As you look, use the 'best-so-far' approach to clarify "needs" verses "wants" and the degree of search success.  When you find a near-perfect fit, or even a very good fit, quit looking and start negotiating.  Nice homes are not on the market long here.
Contact your Realtor … TNT
Resolve the price issue:  (1) what you financially qualify for; and (2) what you want to spend, which could be much less.  A 20 minute phone conversation with a lender could produce at least a preliminary answer to (1), and this would be a smart first action.  A review of your life style, preferences, and budget would produce the answer to (2).  TNT can provide you with a list of local lenders who would be happy to provide this service.
Develop preliminary criteria for the home basics:  number of bedrooms;  number of floors;  maximum age;  living area square feet;  lot size;  structure type (SFD, attached, highrise, etc);  amenities (pool, garage spaces, etc);  property features (views, golf course lot, etc);  home owner association nature (from full exterior maintenance to no HOA); and community amenities.These will likely change as you look, but a start point is essential.
Consider your commute to work and other activities to identify preferred regions.  TNT can help with this as well.
Homes tour and review iterations. It is seldom that a suitable community and home are found on the first homes tour, especially when folks are relocating and not familiar with the metro area. But with solid focus on achieving results and critical review after each tour of the criteria, needs, wants and preferences against what has been seen in the marketplace, within a few trips, good results are likely.  TNT has learned that, undertaken in the spirit of an adventure, this process can actually be exciting and fun … that we genuinely enjoy to participate in.
Evaluate suitable properties. When one or more suitable properties have been found, TNT will provide you with detailed historical information for each property, as well as comprehensive information about sales activities in the surrounding area, and detailed information for recent comparable sales.
Make a purchase offer on the first-choice house.
What NOT to do
In metro-Phoenix, the size of which is about 80 miles east-west by about 60 north-south, probably the very least effective activity in the search for a home to purchase is to get in the car and just start driving around. Please, don't waste your time. We have sold homes in every section of these 4,800 square miles, and, with a relatively brief conversation, we can point you to the half-dozen communities that are likely to suite your needs and preferences.
See also … Major Do and  Major Do Not
For information, guidance, services, questions …
Give us a call!  We're here to help.
No strings … no obligations!
Call today! You'll be really glad you did.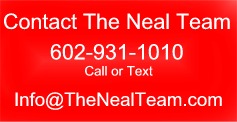 Other Arizona Homeowner Issues