NOT for first-time buyers only!
You may have owned a half-dozen homes.
… and … extra benefits are available for …
1st Responders, Educators, Medical Personnel,
Veterans, active Military and Native Americans
This is REAL!  Thousands of Dollars are available that are NEVER paid back if you live in the property 3 to 5 years, depending on the program. If you get a grant and then must move in less than the minimum years, the payback is prorated for the time you lived in the home.
There are nearly a dozen programs in the metro-Phoenix area that provide amazing assistance in various forms to anyone wanting to quit wasting rent money and actually pay less to buy a nicer place to live.
Click Here for the list of programs as printed on the City of Phoenix website. On my last check it had not been updated in a while, but all of the programs then still existed. Here is a link to one of the programs … Home-in-5
To get started, give us a call …
The Neal Team – Wally or Patricia
602-931-1010
For information, guidance, services, questions …
Give us a call!  We're here to help.
No strings … no obligations!
Call today! You'll be really glad you did.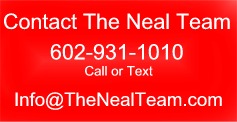 Other Arizona Home Buying Issues