This 14-page booklet explains the steps in the adjacent panel, plus provides even more information and guidance on important home buying issues.
CLICK HERE
for Your FREE, no-obligation, instantly-delivered copy of this very insightful guide.

then Click Here

For Your

Customized Portal directly into ARMLS

… direct access to the database and tools used by Realtors®The best metro-Phoenix homes information on the planet

"The" source for ALL such data ANYWHERE on the Internet.

… complete details, pictures … ALL info

… for every property available

… and every property sold for 10 years

for any neighborhood you want to know about.

… plus automatic notice of new listings information

as soon as it's entered by a Realtor®.

How to Buy a Home – The Arizona Steps

Contact your Realtor®
Get fully educated on the home buying process
Obtain a Lender Pre-approval or a Proof of Funds letter from your depository, and establish your max search price
Establish your home criteria and preferred areas, adjust as/if necessary
Find your best-choice property
Write offer, present to seller, negotiate Purchase Contract terms and conditions, open escrow, deposit earnest money
Perform due diligence for all aspects of the property … professional inspection is basic
Negotiate correction for physical and/or legal issues … else cancel
Sign documents, deposit required buyer cash
If purchase is financed, lender deposits loan principal
Documents are Recorded – Escrow Closes
Get Keys – Move In
Even easier …
give us a call! We're here to help.
No strings … no obligations!
Call today! You'll be glad you did.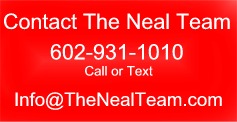 Other Home Buying Issues
Arizona – the most "western" State – Take a Look!