Most-basic secret … don't do this
… just getting in the car and wandering around to shop for a home is a rather silly waste of time compared to almost any alternative.
Even worse, what commonly happens as a result of that "wandering" approach is that a Listing Agent for a property ends up writing the purchase contract and managing the transaction … for both seller and buyer!
Who is representing You?
A critical FACT … if you use the listing agent/broker to make an offer and manage the transaction, you are NOT being represented. That agent/broker, at best, is a "neutral" party. At worst, that agent/broker legally represents the seller and is obligated to secure every advantage possible for the seller. You need and deserve your own expert representative guiding you through the process from start to close.
Secret #1 – Thoroughly educate yourself
Knowledge is power! Even if you are in the preliminary stages of considering relocation, locally or to a different city or state, create and pursue a knowledge gathering plan. Opportunity will arise! Be prepared to recognize it … and seize it if you so choose.
Buyer Advisory
Buyer Advisory … whether you've done 27 transactions or none, this is a document you need to study … not just read … study. The guidance and  information in this succinct-but-comprehensive, well-written document is essential to fully successful real estate results.

Secret #2 – Carefully select your Realtor®
… and be sure that person is a Realtor®, not just a licensed "agent"
In the really 'old days', the seller was the only person represented in a transaction. The buyer was not represented, unless it was through an attorney. Now both parties can be represented … through the use of a Buyer Broker for the Buyer and a Seller Broker for the Seller.
The benefits to the buyer of using a buyer-broker are "priceless", and essential. This should be the first step in your knowledge gathering plan. Your Realtor can then assist and guide your "education".

Secret #3 – As step #2, Select your lender
and get a solid feel for the price you want to pay as well as either a Pre-Qualification, or, much better, a "Pre-Approval" letter. Evidence of your capacity to complete the transaction is a mandatory part of any offer.

Secret #4 – Get your portal into ARMLS
Your Realtor can provide this access. There is no other online source of information that is anywhere close in terms of either the quality or quantity of information. Of particular importance is information for comparable recently-closed sales.

Secret #5 – Document what you want!
Write out your list of needs and preferences and sort them into priority order. This clarity of objectives is amazingly effective for producing results.
Nearly all home-shoppers will change their criteria during the process – a very natural evolution, but do that very deliberately.
For properties that appear to match your needs and preferences, go take a look. Taking this step early on is important to refine your needs/wants criteria as well as your sense of property values.
Revise your criteria list to keep it current, and refer to it frequently as you shop.

Secret #6 – The Best-so-Far Technique
As you home shop, you will need a way to remember what you have seen, as well as your evaluations. The best technique is to keep track of (a) the 'best-so-far' property, and (b) your opinion of the fair-market "buy-it" price for that property.
Keep the listing sheet for that property, along with your notes and valuation written thereon. Each property you visit may become the "best-so-far" property, and/or have some impact on your fair-market price for your favorite.
This technique has several benefits: (1) you can almost forget about all of the properties that don't measure up; (2) you have a constant measure of the success of your search efforts; and (3) you will clarify "needs" verses "wants".
If there is a feature or amenity that doesn't affect your "buy-it" price, it is not really a "need".

Secret #8 – When you find it, Buy It!
If you are serious about achieving good results, when you find a near-perfect fit, or even a really-good good fit, quit looking and start negotiating.
You will be really disappointed to "come back" to a "perfect fit" property in a few days only to find that it is under contract.
For information, guidance, services, questions …
Give us a call!  We're here to help.
No strings … no obligations!
Call today! You'll be really glad you did.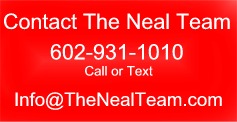 Other Arizona Home Buying Issues